Tipu's 'rocket court' in ruins
Legacy Of Science Now Reduced To A Public Toilet
By A Rajesh/TNN
The Times of India, November 25, 2005, Page 1.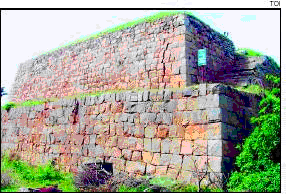 Mandya: To historians and even President Abdul Kalam, he is a pioneer in rocket technology, but today, Tipu Sultan's 'rocket court' in Srirangapatna lies in ruins. Kalam, a rocket scientist, during his recent visit to Bangalore, had said Karnataka inspires all rocket engineers because "it was in Srirangapatna that the first war rocket was designed, developed and operationalised'' in the Mysore wars waged by Tipu against the British over 200 years ago.
Today, this tremendous legacy of Tipu's has become a public toilet. Despite a board from the Archaeology department declaring it a 'protected monument', there are no roads to the site and the area around it has been turned into a gutter. Worse, houses are built right inside its compound and the garrison ball alley attached to the court has become a badminton court. The official attitude has spread to the locals too. None of them know that the 'rocket court' even exists.
Tipu Sultan was the first Indian to use rockets against the British. Kalam recalled how thrilled he felt when, at Woolridge Artillery Museum near London, he saw "the class of rockets Tipu deployed against the British''.
According to Kareemuddin, former principal of Srirangapatna's Vijayabharathi College, the French transferred rocket technology to Tipu's father Hyder Ali. Tipu, in turn, used that knowledge well. "Some books on Tipu in Urdu and Persian also carry photographs of the rockets,'' he said.
The professor said Tipu had two types of rockets: one air-borne with a 2-km range and the other launched through tunnels. Kareemuddin pointed out that President Kalam had wanted to see the court. The Mandya district administration did toy with the idea of inviting him, but the plan was ultimately dropped. Kalam has been all praise for Tipu as India's rocket pioneer, while in his own state Karnataka, the work lies unsung and forgotten, sadly.
---