Dr. Suman Venkatesh releasing the books containing correspondence
between the French and Tipu Sultan translated into English from French.

BLOW : G. Mohideen Sultan ( insert), the Chief, Chef of Windsor Manor
Sheraton Hotel prepared over 27 recipes of exotic foods and delicacies
of Tipu Sultan's era. The decor of Banquet hall and the costumes
of waiters were all done to give that Royal splendour. The lunch was
hosted by the welcome Group for the delegates attending the two day seminar.
BANGALORE : A two day seminar was orgainsed on 5th and 6th of May at Kannada Bhavan to commemorate the bi-centenary of Tipu Sultan. Mr. B.A. Cutinho IAS, Secretary to Government Information Tourism and Youth services and by Mrs. Usha Ganesh IAS Secretary ITY entrusted Dr. Suman Venkatesh of Bangalore University to organise the seminar. Dr. Suman said invitation to 44 intellectuals from India and abroad were sent, out of which 24 responded.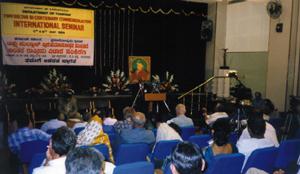 Though the meet was confined to intellectuals, the outcome of the entire meet was positive, and the speakers included Prof. B. Shiek Ali, Prof. Iqtidar, H.Siddiqui, Prof. A.R. Kulkarni, Prof, Nikhilesh Guha, Dr. S.A.Bari, Pr. S.U. Kamath, Dr. Choodamani Nandagopal, Dr. Gayathri, Dr. Venktesh, Prof. Lafont from France, Mr. Rabin Walsh, Prof. Christopher Beyeler and Prof. Christian Peter also from France. Prof. A.R. Khamruddin, Prof. Dayanand Patel, Dr. H.R.R. Bhat, Prof. Anirudha Ray, Samuel Strandberg from Sweden, Anne Buddle of Scotland presented their papers on Tipu. The papers covered various aspects of Tipu's reign such as its secular character, religious tolerance, trade and commerce, coinage, international relations, industry and defence and military capabilities of Tipu's reign. On the occasion books containing correspondence between the French and Tipu Sultan translated into English from French by Dr. Suman were released, the books have been printed by the Department of Information and Publicity, Govt. of Karnataka.
During the programme the lunch was hosted by welcome group i.e. Windsor Manor Hotel with its unique menu specially prepared for the occasion. The programme was attended by R. Roshan Baig Minister for Wakf & Tourism, Former Minster Moienuddin, Rural Development Minister M.P. Prakash and Assembly Speaker Ramesh Kumar.
SRIRANGAPATNA: On May 15th, Mr. R. Roshan baig, Minister of Wakf and Tourism inaugurated the Photo Exhibition at Gumbaz organised by Archeological Survey of India.
Several photographs of monuments, weaponary, armoury, coins, dress, incriptures, manuscripts were displayed